Halloween originates in the pagan religious festival of Samhain (pronounced "SAH-win"), an ancient Celtic spiritual tradition celebrated from October 31st to November 1st.
Its intentions are to welcome an abundant harvest and to bring in the darker, colder season.  There are beliefs that the veil between the physical and spirit world are at its thinnest and that the dead return to Earth.
From the 16th century, people disguised themselves in costumes as part of the festival and went from house to house, reciting songs or verses in exchange for food. This was known as "mumming" or "guising".
In the 19th century, trick-or-treating started with pranks being played on homeowners and making it look like supernatural forces were in play by rattling windows, tying doors shut and other mischiefs. This is when homeowners started offering sweets as a way to protect their property.
According to Statista, consumers in the USA spent 3.1 billion U.S dollars on candy. This number exceeds pre-pandemic levels!
Be good and I'll give you a treat!
Why is it that being well-behaved is associated with giving sweets, biscuits, cakes and anything else loaded with sugar? This is not a treat at all when you think about it!
I know that it's quite a challenge to avoid sugar during festive seasons, such as Halloween, however it is possible to make more conscious choices and not overdo it.
Fortunately, there are many healthier choices to enjoy and I would like to offer you 3 Healthy Halloween Pumpkin Recipes in this blog.
What are the health benefits of pumpkins?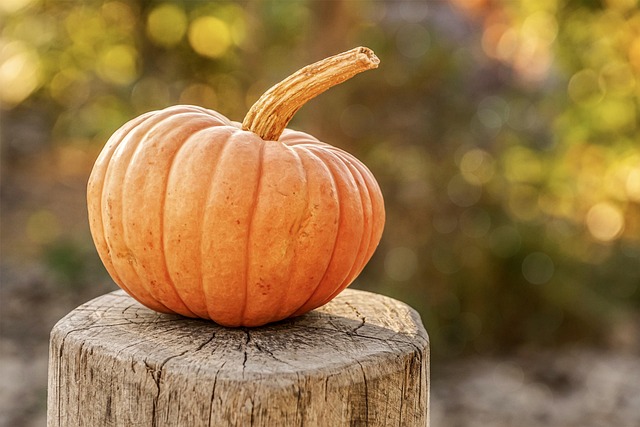 Just looking at the colour of pumpkin alone tells you that it's packed with antioxidants!
It's one of the greatest sources of vitamin A, beta-carotene and other antioxidants like vitamins C, E and zeaxanthin.
These are important because they help to protect your eyes from age-related macular degeneration, heart health and also helps your body defend against cancer.
Vitamin E is another antioxidant found in pumpkin, which keeps your skin looking young and wrinkle-free.
Another reason to eat pumpkin is for its rich source of vitamin C. This vitamin is important to boost your immune system, and white cell recovery after infection and encourages the production of collagen.
Let's not forget about those pumpkin seeds! They are a rich source of iron, zinc, magnesium, phosphorus, amino acids and some antioxidants.
My favourite healthy pumpkin recipes
#1 Pumpkin Bread
Vegan, gluten-free, dairy-free
Serves 4-6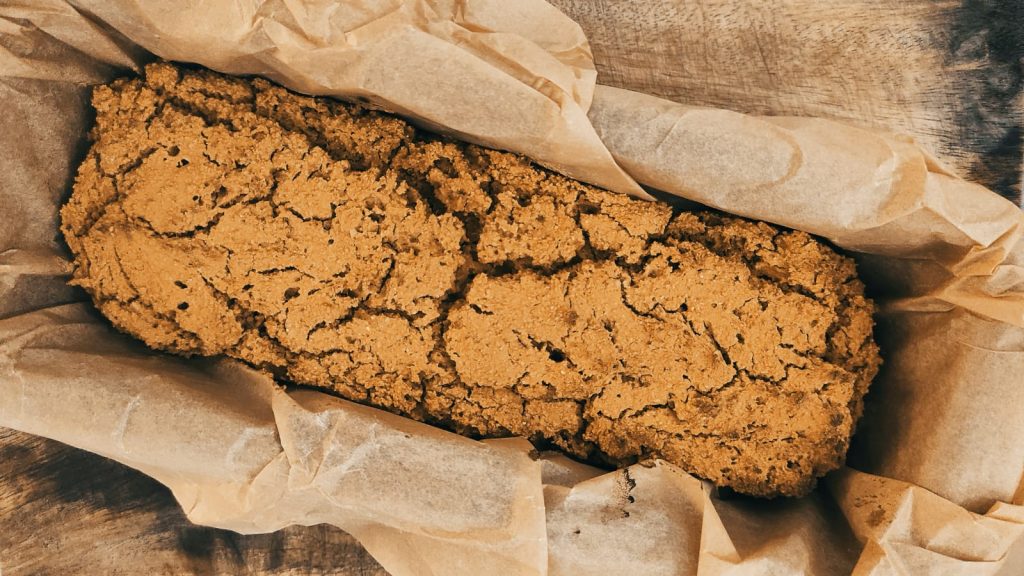 I just discovered this the other day and it is just too delicious to miss out on!
Enjoy it with your family and friends and make double as any leftovers can be stored in a freezer-safe bag and enjoyed once defrosted.
It tastes a little bit sweet due to the pumpkin puree's natural sweetness and is a wonderful combination with other recipes and pumpkin soup!
This recipe is inspired by Anthony William / Medical Medium.
INGREDIENTS
3 cups peeled, deseeded, and diced pumpkin
1/3 cup light coconut milk
1 3/4 cups gluten-free oat flour
1/2 cup rice flour
2 tsp baking powder
1 tbsp pumpkin pie spice (see notes below)
1-2 tbsp pumpkin seeds (optional)
DIRECTIONS
Steam the diced pumpkin for 10-15 minutes until tender and let it cool.
Place the pumpkin in a blender and blend until smooth. Measure out 1 cup or so of the puree.
Preheat the oven to 180C and line a 20-25cm loaf pan with parchment paper.
In a medium-sized bowl, add the pumpkin puree and coconut milk and whisk well.
In another bowl, add the dry ingredients: oat flour, rice flour, baking powder, and pumpkin pie spice. Whisk until lump free.
Mix the wet and dry ingredients together and mix well. The batter should be quite thick but pourable.
Pour the batter into the lined loaf pan and top with pumpkin seeds (if using). Bake for 35 - 45 minutes until browned on top. It's ready when an inserted toothpick or fork comes out clean.
Remove from oven and let cool for 5 minutes in the loaf pan. Gently remove and let cool completely on a rack. Slice and serve!
TO MAKE PUMPKIN SPICE
Blend the following ingredients together:
3 tablespoons ground cinnamon
2 teaspoons ground nutmeg
2 teaspoons ground ginger
1 teaspoon ground allspice
1 teaspoon ground cloves
You can store any leftovers in an air-tight jar.
#2 Pumpkin Soup
Vegan, gluten-free, dairy-free
Serves 4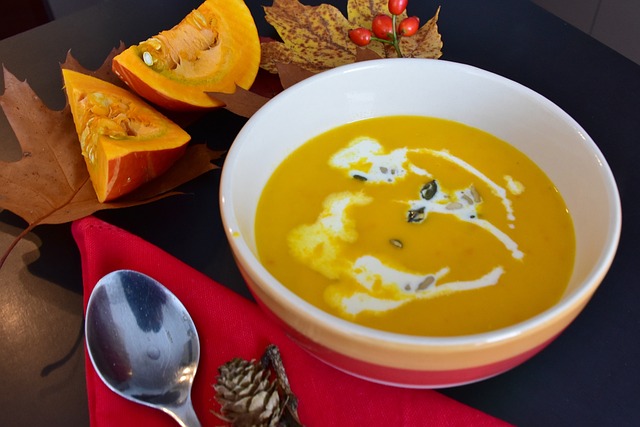 Heart-warming and soul-nourishing, this is pure comfort in a bowl on those nights that are getting colder.
This soup serves very well with the pumpkin bread that kids and adults alike will love.
I personally like to add a little bit of chilli to give it just a little kick.
Any leftovers can be stored in the fridge for a few days.
This recipe is inspired by Anthony William / Medical Medium.
INGREDIENTS
1 kilo peeled, deseeded, and chopped pumpkin
1 cup chopped onion
6 cloves of garlic, minced
1 tbsp chopped ginger
1 teaspoon ground cumin
1 teaspoon ground coriander
1 teaspoon smoked paprika
1 tsp dried oregano or thyme
dash of ground chilli or add more if you prefer it spicier
2 cups of water or organic vegetable broth
1 cup light coconut milk
2-3 tbsp pumpkin seeds, to serve (optional)
A handful of parsley (optional)
DIRECTIONS
Add the pumpkin, onion, garlic, ginger, cumin, coriander, smoked paprika, oregano or thyme, chilli, and vegetable stock to a large pot on medium-high heat.
Bring to a simmer and cook, uncovered, for 20-30 minutes until the pumpkin is tender.
Transfer the mixture to a blender or use an immersion blender. Add the coconut milk and blend till smooth.
Pour the soup back into the pot and heat until warm. Divide soup between bowls and top with pumpkin seeds (optional) and chopped parsley (optional).
Serve immediately.
#3 Pumpkin Pie
Vegan, gluten-free, dairy-free
Serves 6-8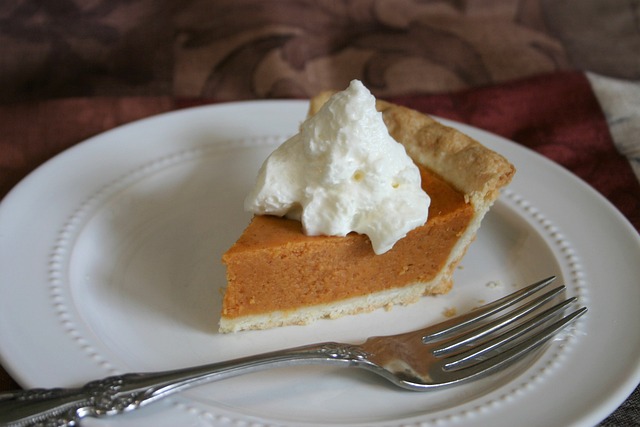 Want to really wow your friends and family by making a healthy and delicious dessert? Try out this pumpkin pie!
This recipe looks good with whipped coconut cream. To make the cream, simply whip chilled full-fat coconut cream (no liquid) until light peaks form.
This recipe is inspired by Anthony William / Medical Medium.
INGREDIENTS
For the crust:
2 cups gluten-free oat flour
1/4 cup solid coconut oil
3 tbsp maple syrup
1-3 tbsp water
For the filling:
2 1/2 cups pumpkin puree (you can steam 7.5 - 8 cups of diced pumpkin for 15 minutes then blend to get this amount of puree)
2/3 cup coconut milk or unsweetened almond milk
2 1/2 tbsp arrowroot flour
1/4 cup coconut sugar
1 tbsp pumpkin pie spice (see the recipe above in the pumpkin bread section)
To serve:
1/2 cup coconut whipped cream (optional)
1-2 tsp ground cinnamon
DIRECTIONS
Preheat oven to 180C. Grease a 20-25cm pie dish and set aside.
Make the base by adding the oat flour and coconut oil to a food processor and pulse until fine crumbs appear.
With the processor running, add the maple syrup, followed by the water until the dough sticks together when pressed between fingers.
Place the dough in the pie dish and press evenly to the bottom and up the sides. Refrigerate until needed.
Blend the following ingredients: pumpkin puree, coconut milk, arrowroot flour, coconut sugar and pumpkin spice until smooth. Pour this mixture into the prepared crust and bake for 50-55 minutes, until the crust is golden and the filling is set.
Remove the pie from the oven and let it cool. Once it is room temperature, transfer it to the fridge for 4-6 hours or overnight.
Slice and serve with coconut whipped cream (if using) and a sprinkle of ground cinnamon.
Wishing you a happy and healthy Halloween festive season!
Vitamin D deficiency is common worldwide, even in sunny countries! In Spain,  it is estimated that one third of the population may be deficient in vitamin D (1). In the UK, studies have shown a significant number of people with low vitamin D levels in their blood.
Just like plants need sunlight to grow, so it is true with humans for better health and wellbeing.
At least 75% of our vitamin D is produced in the liver via the conversion of sunlight. There are some foods that contain a fair amount of vitamin D, but most foods contain very little unless the vitamin has been added.
Rickets, a condition that affects bone development in children, causing the bones to grow weak, soft and a tendency towards deformities was eradicated in the Western World during the early 20th century by fortifying foods with vitamin D.
When I visited Iceland, I was told that all residents were recommended to take vitamin D by their physicians and health practitioners, due to the fact that you don't see the sun at all for 3 months and one can quite easily become depressed.
Read on to understand the importance of vitamin D, what the deficiency symptoms are and how to balance your vitamin D levels naturally.
What Is Vitamin D And Why Do We Need It?
In the truest sense of the form, vitamin D acts more like a hormone and is not a vitamin at all, as the body is capable of producing it in the liver. It is then stored in the liver and fatty tissues of the body.
Cholesterol (7-dehydrocholesterol) in the human skin synthesises vitamin D from being exposed to UV light from the sun.
We need vitamin D for many different functions in our body:
Assists the absorption of calcium and regulates normal calcium and phosphate levels
Promotes bone and cell development
Reduces joint inflammation
Boosts the immune system
Regulates mood
What Can Happen If We Are Deficient In Vitamin D?
The normal range of vitamin D is between 20 and 40 ng/ml, although this number can vary a bit.
Group studies show that pregnant women and babies are most at risk of vitamin D deficiency.
Studies have linked low vitamin D levels to a number of health issues (2):
Mortality
Hair loss
Cardiovascular disease
Reduced bone density and osteoporosis. Tooth decay
Higher risk of bone fractures
Metabolic syndrome
Malignancy. Susceptibility to certain cancers, such as breast, ovarian, colon and prostate cancers have been linked with vitamin D deficiency.
Hormonal imbalances. A vitamin D deficiency can lead to reduced oestrogen levels, which, in turn can lead to depression, hot flashes and mood swings.
Autoimmune conditions
Muscle weakness and muscle aches
Infections
Rickets
Fatigue
reduced cognitive performance. Difficulty in thinking cleared and making decisions.
Mood imbalances, such as depression, Seasonal Affective Disorder (SAD), insomnia and anxiety.
Sleeping issues, including sleep apnea and disrupted sleeping patterns.
What Causes A deficiency in Vitamin D?
Sunscreens - there have been many concerns that the use of sunscreen negatively impacts the body's ability to synthesise vitamin D. Studies show that this is true with artificially generated UV light, however, when using natural sunlight, there appears to be no effect when using moderate protection sunscreens. (3)
Although a topic for another time, the use of commercial sunscreens have been shown toxic to marine life, corals and fish reproduction. It also contains toxic chemical ingredients that are human hormonal disruptors and create organ system toxicity.
When it comes to sun protection, ideally use a natural product, such as coconut oil or raspberry seed oil.
Clothing - having our skin covered in clothes can either partially or totally block the sun's UV rays.
 Air pollution - living in an area with high levels of air pollution are at increased risk of developing a vitamin D deficiency.
Medications -  laxatives, steroids (such as prednisone), cholesterol lowering drugs, seizure-controlling drugs, and weight loss drugs.
What Is the Best Way To Get Vitamin D?
How can you balance your vitamin D levels?
Exposure to sunlight is the best and most effective method to have adequate vitamin D levels.
Being exposed to the sun daily for 10- 15 minutes without sunscreen is recommended for fair-to-medium skin.
If you are darker toned skin, you may need to spend at least 40 minutes in the sun to get adequate exposure.
In the winter, when the sun is less potent, double the time may be needed.
The main food sources containing vitamin D are animal products, such as cod liver oil, mackerel, swordfish, sardines, tuna, beef liver, caviar and fortified cows milk.
If you're vegan, the best way to obtain vitamin D is through mushrooms and nut milks, such as oat milk fortified with vitamin D.
If you would like to add extra supplementation, this vegan vitamin D3 from Viridian on Naturitas.es is in liquid form and only 0,5ml a day is needed. Other ingredients contain sunflower seed oil and oil of orange - nothing else!
Is It Possible To Take Too Much Vitamin D?
Yes, and there have been increasing reports of vitamin D overdose and poisoning. This can be due to the over-fortification of milk or prolonged use of vitamin D supplements.
In one case, a 62 year old man was hospitalised with a neurologic disorder and kidney failure. The patient reported that he had been on a slow-release multivitamin containing Vitamin D and Vitamin A prescribed by his physician (4). His blood levels had excess calcium (Hypercalcemia), a condition that can weaken bones, create kidney stones and create interferences in the functioning of the heart and brain.
Some symptoms of too much vitamin D include:
Nausea
Apathy
Vomiting
Abdominal pain
Dehydration
Confusion
Increased thirst
Vitamin D Testing With Kinesiology
You can find out how what your vitamin D levels are like by having a blood test.
You can also get tested in your kinesiology session, where we can additionally test for other deficiencies, or if there is too much of  a mineral or vitamin.  Since the liver and the kidneys play a role in vitamin D, these organs can be strengthened and restored in the session, addressing any imbalances from a holistic point of view.
For more information, send me a message or visit the kinesiology section of this website.
RESOURCES
González-Molero I, Morcillo S, Valdés S, Pérez-Valero V, Botas P, Delgado E, Hernández D, Olveira G, Rojo G, Gutierrez-Repiso C, Rubio-Martín E, Menéndez E, Soriguer F. Vitamin D deficiency in Spain: a population-based cohort study. Eur J Clin Nutr. 2011 Mar;65(3):321-8. doi: 10.1038/ejcn.2010.265. Epub 2010 Dec 22. PMID: 21179052.
Lim K, Thadhani R. Vitamin D Toxicity. J Bras Nefrol. 2020 Apr 3;42(2):238-244. doi: 10.1590/2175-8239-JBN-2019-0192. PMID: 32255467; PMCID: PMC7427646.
Neale RE, Khan SR, Lucas RM, Waterhouse M, Whiteman DC, Olsen CM. The effect of sunscreen on vitamin D: a review. Br J Dermatol. 2019 Nov;181(5):907-915. doi: 10.1111/bjd.17980. Epub 2019 Jul 9. PMID: 30945275.
If you have started to experience stomach cramping, vomiting, or feverish after eating, drinking or even after bathing, then you may have a bacterial infection caused by E. Coli.
Learn more about its symptoms and what you can do about it.
What is E. Coli?
Escherichia coli, aka E. coli, is a rod-shaped bacterium whose strains are mostly harmless and normally live in the intestines in healthy people and in animals.
Just like with candida, if there is a balanced amount of E. Coli, it is harmless and is beneficial to the digestive system by assisting to digest the food we consume.
The most common strain that causes diarrhoea and makes you feel sick is referred to E. coli 0157, which produces a toxin called Shiga. This toxin damages the lining of your small intestine and causes diarrhoea.
According to the WHO Global Burden of Food-borne Diseases, 300 million illnesses are reported to be caused by diarrhoeagenic E. coli  worldwide each year.
What are E. coli infection symptoms?
People can have the following symptoms typically within three to ten days after drinking or eating foods contaminated with E. Coli bacteria:
Loss of appetite
Nausea
Vomiting
Watery diarrhoea
Blood in stools
Gas and flatulence
Stomach discomfort and cramping
Low fever (around 38.5 °C )
Urinary Tract Infection, particularly in women.
Most people will  feel much better without taking medication within five to seven days. (1.)
It is worth noting that another strain exists which can develop a condition called hemolytic uremic syndrome in which the toxins can destroy red blood cells and damage the kidneys.
The symptoms of this strain include the following:
Blood in the urine
Feeling dizzy
Confusion
Fast heart rate
What are the common causes of E. Coli?
You can only get infected by eating or drinking contaminated food or water.
Common food sources include:
Undercooked meat. This accounts for approximately 55% of E. coli infections.
The riskier meat is ground beef, followed by steak.
Unpasteurised raw cows/goat/sheep milk.
Raw cheese
Fruits and vegetables that have not been thoroughly washed.
Common water sources include:
Ponds, lakes, streams, rivers, and the sea
How to prevent E. Coli
Wash your hands with soap and water thoroughly before eating or drinking.
You can also get E. Coli on your hands after changing baby diapers, having a bowel movement, being in contact with farm animals.
Wash fruits and vegetables thoroughly
If you eat meat, make sure to cook it thoroughly. Using a thermometer will give you the indication when meat is thoroughly cooked.
Wash your hands after you open a package with meat, since it is usually covered with bacteria. Never rinse raw meat in the sink before cooking it.
Clean and disinfect all surfaces exposed to raw meat.  It is best to use a ceramic or plastic cutting board for meat since they can be cleaned easier.
E. coli can still survive high heat, therefore reducing meat consumption or switching to a plant-based diet will minimise infection.
Avoid nail biting
Try to avoid getting water in the mouth, eyes, ears and nose if you are bathing in possibly contaminated fresh water, swimming pools and even the sea.
How to treat an E. Coli infection
The conventional treatment is to rest and drink plenty of fluids, since E. Coli usually clears up by itself within five to seven days.
Antibiotics are not typically recommended since they are ineffective against E. Coli.
Health care professionals don't recommend drugs to stop diarrhoea either, since this is the body's effective method in removing toxins from the body.
If there is severe dehydration and you're experiencing symptoms caused by the strain that develops hemolytic uremic syndrome, then hospitalisation may be needed to receive treatments, such as IV fluids, electrolytes etc.
1. Drink plenty of fluids
Experiencing diarrhoea will cause you to lose a lot of water, therefore it is best to drink good quality, filtered water.
Avoid tap water. To find out why, read my blog post: why you shouldn't drink tap water.
A nice healing broth recipe I can recommend is the following by Anthony Williams - Medical Medium:
Healing Broth Recipe
Ingredients:
4 carrots, chopped or 1 sweet potato, cubed
2 stalks of celery, roughly chopped
2 onions, sliced
1 cup parsley, finely chopped
1 cup of shiitake mushrooms, fresh or dried (optional)
2 tomatoes, chopped (optional)
1 bulb of garlic (about 6-8 cloves), minced
1 inch of fresh ginger root
1 inch of fresh turmeric root
8 cups of water
Optional: Chili peppers or red pepper flakes
Directions:
Place all the ingredients in a pot and bring to a gentle boil. Turn heat down to low and allow to simmer for about an hour. Strain and sip for a mineral rich, healing and restorative broth or leave the veggies in to enjoy as a light healing soup.
Oregano oil is a powerful antibacterial, antiviral and antifungal.
You can take oregano daily up to a maximum of 2 weeks, then it is best to take a break before taking them again.
A study in 2003 (2) concluded that the bactericidal concentration of oregano irreversibly damaged E. Coli and is therefore effective in prevention as well as treatment.
You may wish to speak to your doctor first before taking oregano oil since it may interfere with medication involved with blood clotting and increase risk of bleeding.
Oregano oil is generally not recommended for pregnant women.
Activated charcoal is a potent absorber of toxins and chemicals. I highly recommend having activated charcoal at home as one of the first-aid remedies.
There is no set dosage as such, so it is best to follow the instructions on the label.
As a general rule:
For the onset of diarrhoea, take 1000 mg with a full glass of water and 1 hour later take another 1000mg with a full glass of water.
For children, take 200mg with a glass of water and 1 hour later they can take another 200mg with plenty of water.
It is the number one remedy for food poisoning and can even prevent hangovers.  Pesticides, mercury, fertilisers and other chemicals bind to the surface of activated charcoal and pulls them out of the body.
Activated charcoal is used to filter water, such as the Big Berkey water filter I recommend as mentioned in my blog post on Filtering Your Water to Optimize Your Health
A study published in 2001 (3) concluded that activated charcoal is a powerful and effective absorber for the removal of  E. Coli. In this study, 10mg of activated charcoal absorbed strains of E. Coli within 5 minutes, whilst not affecting the good bacteria needed within our gut for a healthy microflora.
It is important to take activated charcoal at least 90 minutes before meals, supplements and prescription medicine as it can interfere with absorption.
Activated charcoal may interfere with the following medication:
Naltrexone (used for alcohol and opioid dependence)
Acrivastine
Bupropion
Carbinoxamine
Fentanyl
Hydrocodone
Meclizine
Methadone
Morphine
Morphine Sulfate Liposome
Mycophenolate Mofetil
Mycophenolic Acid
Oxycodone
Oxymorphone
Suvorexant
Tapentadol
Umeclidinium
Acetaminophin
Tricyclic antidepressants
Theophylline
If there are any doubts, consult your doctor.
RESOURCES
Burt SA, Reinders RD. Antibacterial activity of selected plant essential oils against Escherichia coli O157:H7. Lett Appl Microbiol. 2003;36(3):162-7. doi: 10.1046/j.1472-765x.2003.01285.x. PMID: 12581376. https://pubmed.ncbi.nlm.nih.gov/12581376/

Naka K, Watarai S, Tana, Inoue K, Kodama Y, Oguma K, Yasuda T, Kodama H. Adsorption effect of activated charcoal on enterohemorrhagic Escherichia coli. J Vet Med Sci. 2001 Mar;63(3):281-5. doi: 10.1292/jvms.63.281. PMID: 11307928. https://pubmed.ncbi.nlm.nih.gov/11307928/
We all know that we should be drinking at least 2 litres a day for our health and well being, however, drinking the right type of water is the key to receiving optimal benefits.
Tap water doesn't mean it's safe to drink even though it meets safety guidelines.
Alicante has very hard water and has a high content of chlorine and cal, making the water taste very unpleasant, and you'll end up still feeling thirsty.
The consumption of tap water over time poses great risks to health as you shall read below.
Bottled water isn't that great either since chemicals from the plastic can leach into the water.
Avoid bottles made with BPA (Bisphenol A) which are chemical hormonal disruptors, they mimic oestrogen and are linked to reproductive health problems and certain types of cancers, such as breast, ovarian and prostate.
What is commonly found in  tap water?
Heavy metals, such as:
Arsenic which occurs naturally in soil and rock. Linked to cancers of the prostate, liver, kidneys, lungs, skin and nasal passages.
Cadmium: galvanised tubes, plumbing accessories, fertilisers and aerial contamination are some of the ways it can enter into our water supply. It is known to be toxic for the kidneys.
Lead: Comes from lead pipes and corroded infrastructure. It is known to be toxic and poisonous to almost every major organ in the body.
Mercury: According to the Water Quality Association, the major source of mercury comes from a natural degassing of the Earth's crust, also the combustion of fossil fuels and other industrial release. Mercury has been known to cause kidney damage, even from short-term exposure. It has negative effects on the brain and the developing foetus.
Chemicals, such as:
The above list is not exhaustive, however, it gives an overall idea of how toxic our tap water actually is!
What can you do about it?
The heavy metal protocol combines 5 ingredients that synergistically work to help eliminate heavy metals from all parts of the body.  Click here to my blog for instructions.
Get a good water filter such as the Big Berkey.I have owned one for 5 years and I am very happy with it. I have been able to take it travelling with me and it uses no electricity.

The 2 carbon filters that it comes with last for 10 years. The only thing, is that it doesn't filter out the fluoride.
You could buy a PF filter by Berkey which goes into your Big Berkey that uses aluminium oxide which is naturally occurring and non-toxic to filter out the fluoride.

There has been some concern about the use of aluminium oxide, however, there are no known bodily functions that react with aluminium oxide and has been used in a variety of orthopaedic uses such as hip and knee joints.
I personally like to fill up large containers of water from the highest spring in Vall de Laguar called "Font De Gel" and I filter this water into the Big Berkey.

You might consider instead getting a water distiller since this removes absolutely everything.I owned one for a while but I didn't like the fact that it took a long time to filter and it needs electricity, making a constant whirring noise and expelling hot air.

A water activator transforms the water hardness, making it soft and energetically improves it.

This can be applied to the whole house and will be healthier for all plumbing and devices that use water, making them last longer. It also improves the health of swimming pools, ponds, water features, animal drinking water etc..

For more details, contact Cristobal (English and Spanish speaking) in Javea:
Email: c.cholbi@unicomrc.com |  phone: 96 693 4290  |  Website:

www.unicomrc.com
Just mention my name (Michelle) and he'll give you a free demonstration of the water activator device if you're in the local area.
A note on Shungite's healing properties
This rare black stone, mainly found in Shunga, Russia, has a unique composition containing fullerenes, which are a type of carbon nanostructure.
According to a 2017 review, carbon nanostructures can destroy harmful pathogens, such as bacteria and viruses.
Shungite has been used since ancient times to purify water and for its antioxidant properties.
It is used to reduce inflammation and ease physical ailments, including allergies, arthritis, kidney issues, fatigue, liver problems and more.
Anecdotally, it is reported to relieve stress, soak up negative energy and balance emotions.
I use shungite in the Big Berkey water filter in the bottom half and I also put it in my cat's drinking bowl, which at times becomes a fishing game to my amusement!
RESOURCES
PFAS chemical in Spain https://buff.ly/3twfBMg
Water quality for consumption report 2019. Ministry of Health. https://buff.ly/3aXNwao
Study related to fluoride by Science Direct. https://buff.ly/3xqNBe6
Calcification of the pineal gland by webMD: https://buff.ly/3NKeYH9
Water Quality Association: https://www.wqa.org/Learn-About-Water/Common-Contaminants/Mercury
Review on the Antimicrobial Properties of Carbon Nanostructures, 2017. NIH. https://www.ncbi.nlm.nih.gov/pmc/articles/PMC5615720/
Everyone that comes to have a kinesiology session will get tested for heavy metals, usually within the first few sessions.
Why is this so important though? Where do heavy metals even come from? What do I need to do to eliminate them efficiently?
I will answer all of that here for you.
Heavy metals can be a hidden antagoniser, even at low levels of exposure it can have a significant impact on the health of our organs. The toxicity of arsenic, cadmium, chromium, lead, and mercury pose the greatest risk to public health (1). There are many potential symptoms of heavy metal toxicity, such as:
Anxiety and panic attacks
ADHD
Autism
Depression
OCD
Mood disorders
Alzheimers
Concentration and memory loss
Prolong and increase the severity of bacterial and viral conditions
Tingling or numbness
Fatigue
Heart palpitations
Tinnitus (ringing in the ears)
Dizziness
Vertigo
Aches and pains
The truth is, we can't get away from them in this day and age. They are described as being heavy because once they are in the body, they are hard to get out and stick around, quite often accumulating within tissues within the brain, liver, heart, kidneys, immune system and the reproductive system.
Mothers can also pass heavy metals down to their unborn child because heavy metals, such as mercury, are able to cross the placenta, blood-brain and blood-cerebrospinal fluid barriers. Over time there is an accumulation of these toxic heavy metals, which can make us more vulnerable and weaker with every generation.
Here are some of the common ways we can get exposure to heavy metals:
Traffic fumes, air pollution, cigarette smoke, radiation.
Food, such as fish, seafood, and processed foods, canned foods, soda drinks and baby formulas (2)
Amalgam dental fillings
Tap water has concentrations of arsenic, cadmium, nickel, mercury, chromium, zinc, and lead (3). (This is why it is so important to have a good water filter system!)
Cosmetics, such as lip products, whitening toothpaste, eyeliner, nail colour, foundations, sunscreens, eye shadows, blush, concealer, moisturisers, eye drops, antiperspirants and talcum powder (4)
Children's toys
Getting tattoos
Aluminium foil, metal pots, pans, stainless steel cutlery
How to eliminate heavy metals from the body efficiently?
The heavy metal detox protocol is a method created by Anthony Williams, Medical Medium.
In kinesiology sessions, I have found the protocol to be extremely effective, quite often eliminating the heavy metal imbalance within one month of daily consumption.
There are 5 foods that synergistically work together to pull out these toxins deep within our body:
Best taken every morning for 1 month minimum, this smoothie is so tasty that even children will love it!
The recipe is based on one person, therefore double the ingredients as needed.
Ingredients:
Incorporate at a minimum of 3 ingredients.
Method:
Place the wild blueberries into a bowl and let them thaw during the night.
In the morning, drain the liquid and add the blueberries to the blender with the other ingredients.
You can add additional ingredients such as, bananas, apples, honey, shredded coconut or dates to sweeten.
Add 1 cup or more of either water, vegetable milk, or orange juice.
Blend thoroughly, pour into a tall glass and enjoy!
It is reccomended to drink daily for at least 1 month at a minimum.
References